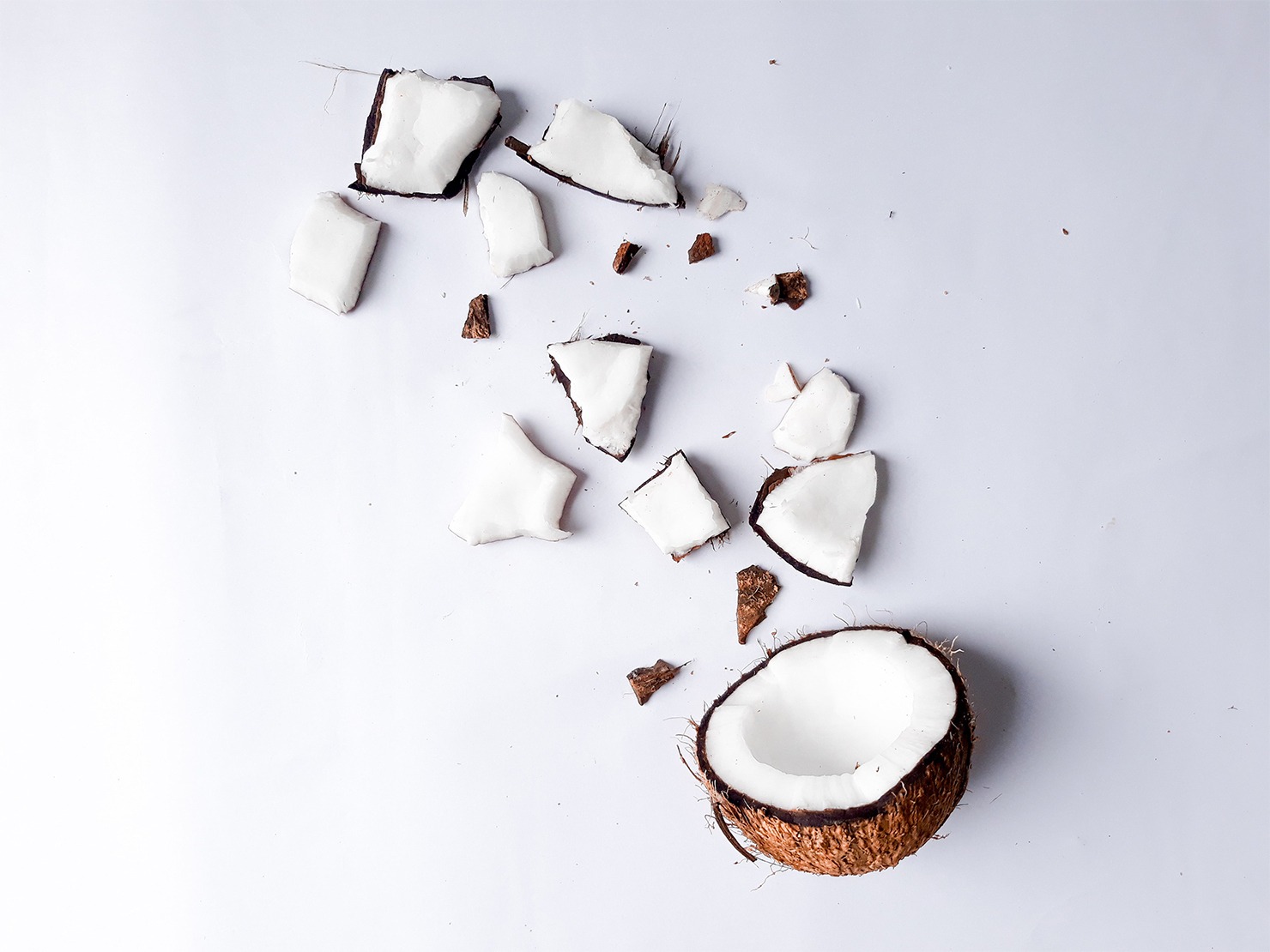 The fruit of the Cocos Nucifera coconut tree, this exotic nut changes from a soft green colour to a fibrous brown shell as it matures.
Cultivated mainly in India, the Philippines and Indonesia, coconuts are mainly used in cooking but also in cosmetics and perfumery. Its fibres, on the other hand, are used to make doormats and brooms! Nothing is wasted.
The benefits of coconut
Rich, milky, floral and sunny, the simple scent of coconut evokes the desire for a sensual and exotic escapade, a holiday in the sun on a tropical beach.
Perfumers delight in this intoxicating and delicious scent, which occupies a unique place in perfumery.
Highly acclaimed in cosmetics, the benefits of coconut contained in its white flesh, known as copra, have been recognised for many years. It is in fact the coconut's albumen. Two-thirds oil, it is mainly used in the production of scented Monoï oil. This oil also contains soaked Tiaré flowers.
Coconut oil, on the other hand, is obtained by pressing the nuts. Its nourishing and hydrating properties make coconut oil a favourite ingredient in body and hair products. A real sweet-smelling product with an instantly recognisable fragrance.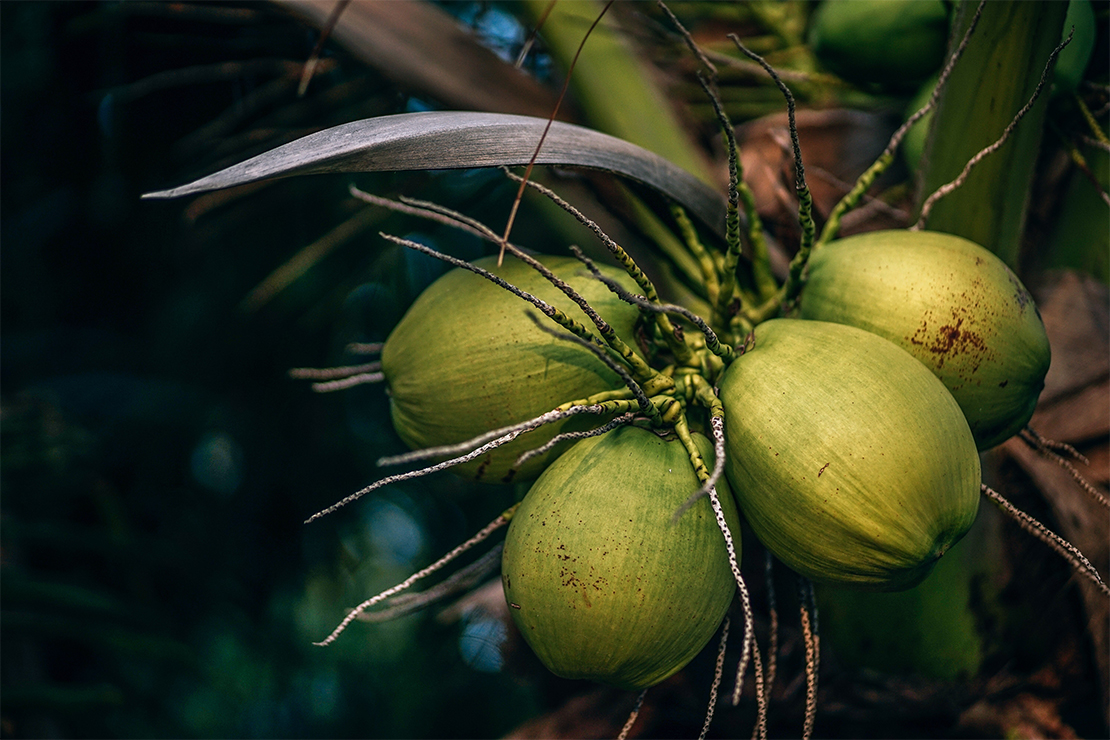 Coconut and perfume
A middle and base note in perfumery, coconut plays a key role in many sensual creations. Easily identifiable by its natural associations with beach and sun, its scent takes you on an immediate journey to a sensual world.
This fragrance lends a fruity, sunny, soft, creamy, luscious and sensual facet to a scented creation. Possessing a powerful fragrance, this note provides the perfume with a long-lasting effect, for infinite pleasure. The olfactory journey begins.
However, in perfumery, the oil extracted from the coconut flesh is not used, unlike in cosmetics. Perfumers work with molecules naturally present in coconuts: lactones. There are many of them, such as the rounder, sunnier Gamma-Nonalactone.
But there is a clear distinction between a fresher coconut milk fragrance, a dry woody coconut or creamier milky shavings. Coconut offers multiple facets that perfumers look for. Thanks to this they are able to create fruity, floral, woody, sweet, botanical or sensual fragrances...
Coconut and master perfumers
Coconut has been used by master perfumer for years.
The main ingredient of Comptoir Sud Pacifique, it can be found paired with vanilla in the Vanille Coco bottle, which instantly transports you to a paradisical beach, or the more intense Coco Extrême bottle, which is full-bodied and sweet. The aromatic fig also makes a very nice pairing with coconut and, at Quintessence Paris, it can be found in candles, diffusers, perfumes, sprays and vaporisers.
Coconut Fizz by Guerlain combines the floral notes of coconut with the fresh, fruity, botanical notes of citrus fruits such as bergamot. A refreshing and exotic Aqua Allegoria.
Rem by Réminiscence highlights notes of coconut water paired with accords of vanilla and a bouquet of sunny floral petals such as jasmine and rose: a juicy, slightly powdery sweetness.
Yves Rocher's fresh, sweet and gourmand coconut fragrance mist is also universally acclaimed as the perfect cosmetic treatment as well as for its addictive, fresh, sweet and rich scent.
Scented candles, scented diffusers and fragrances for the skin or home can be found in our online shop. Created by renowned perfumers, these fragrances are a must to discover!
Fresh flowers such as orange blossom or lavender, more intense notes such as cedar, oud or incense, soft and gentle scents such as musk or sandalwood... coconut is a valued scent pairing, making it the undisputed queen of sensuality!