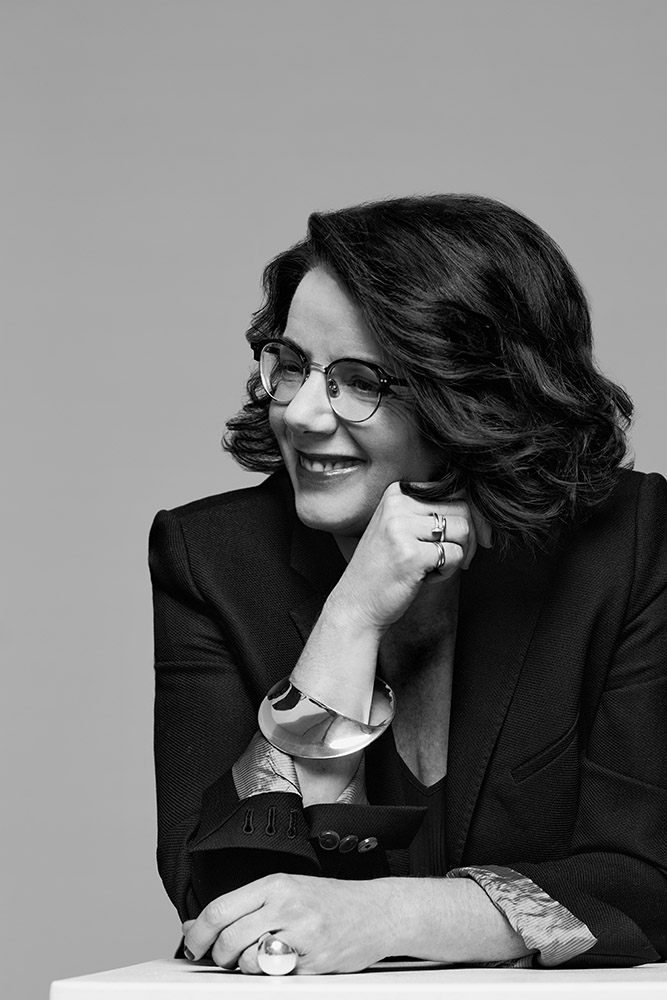 Parisian-born, Domitille loves the smell of the city's gardens, but also its authenticity, where the scent of fresh newspapers fills the terraces of Boulevard Saint Germain. From an early age, her sense of smell was put to the test during two years spent living in the tropics, where trees and spices were plentiful.
After returning to mainland France, although the landscapes had changed, her olfactory passion endured, leading her to the ISIPCA. In 1994, after finishing her undergraduate degree at IFF, she decided to continue her studies there, aware of the great freedom she could enjoy as a perfumer.
After dedicating more than 26 years to the trade, she became head of the perfumers at IFF in February 2021. With many magnificent creations under her belt, she has created lasting trends in the world of perfumery.
WINS
Flowerbomb de Viktor & Rolf, Celluloid Galbanum de Comme des Garçons, Perfect de Marc Jacobs, In Motion de Boss, Me de Lanvin, Midnight in Paris de Van Cleef & Arpels, The beat for men de Burberry, Miroir miroir de Thierry Mugler, Noa perle et Liberté de Cacharel
Your perfume?
I no longer have any. I wear my creations while I develop them. That of flowers and nature.
A childhood scent?
The smell of Vanuatu, the tropical aromas mixed with the smell of warm and spicy soil and plants.
A cooking smell?
Spices. Black and pink peppercorns to be precise.
An unpleasant scent?
Sulphur.
Your perfect perfume?
One that brings happiness.
The smell of a place?
The smell of the sea and the sea breeze on the Basque coast.
When did you know that you wanted to become a perfumer?When I discovered the job of a perfumer existed and that an institution existed (ed.: ISIPCA) which could turn this dream into a reality...
Do you have an anecdote as a perfumer?
Yes. A trip to Mozambique comes to mind. Overnight, I found myself in a private reserve capturing the scent of local flowers. It was a waking dream.
What was your first creation?
It was a lavender scented fragrance, made from lavender sprigs picked in my grandmother's garden when I was a child. In a vase, I infused them with water in order to create what I proudly called a perfume. My first creation.
Your favourite kind of brief?
One that allows for a real conversation with the brand. It is these projects that allow me to truly and thoroughly understand the expectations of my client. But I also really like personalised projects. I always prefer sitting and speaking with the client.
Your favourite raw material or the one you work with most?
I work in a similar fashion to that of painters or artists. I go through what certain people call "phases". Cycles where I focus on or explore a specific genre of notes. Currently, I am going through a green phrase, a phrase when I work with a lot of green notes. But, who knows, next week I could be going through a woody or a floral phase...
Is there a raw material that you don't like to work with?
Of course! There is only one material I don't like to work with: ylang-ylang.
What sources of inspiration do you use when creating perfumes?
I am inspired by what surrounds me in life in general. Whether it is an encounter, an exhibition, a taste, I can draw from all areas to find sources of inspiration. It allows me to look at perfume from a different perspective or angle.
Which perfume would you have liked to have created?
It would be, without a doubt, FEMINITE DU BOIS by Serge Lutens.
Your most beautiful creation?That is still to come...