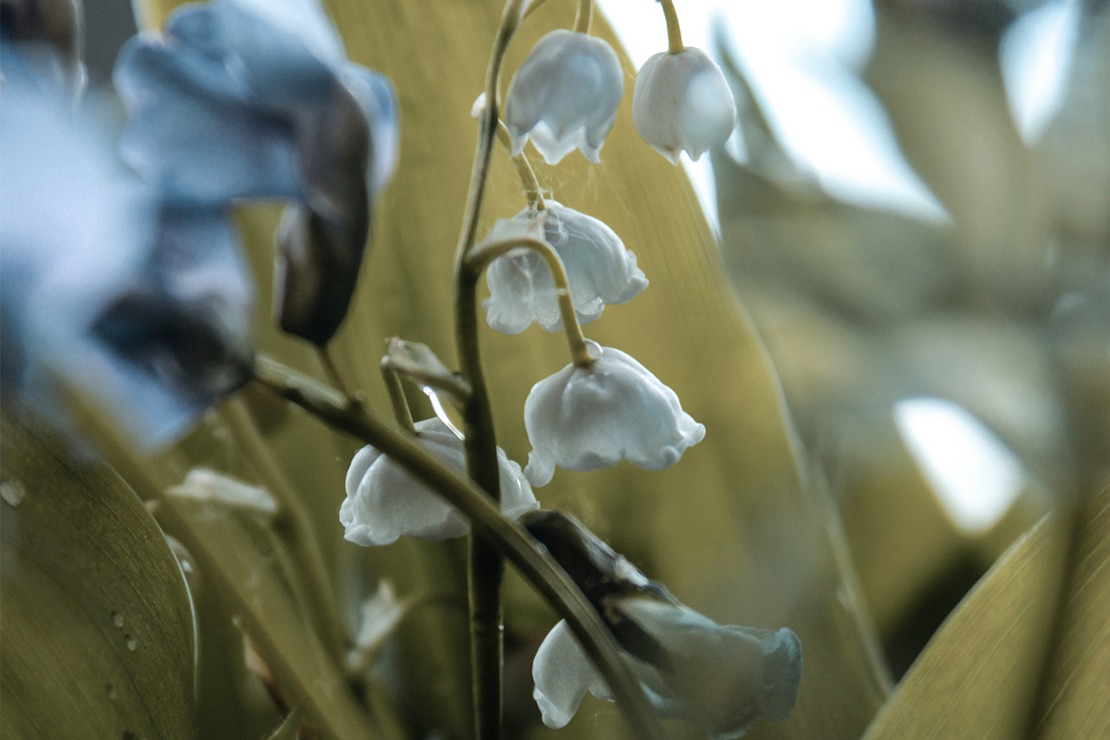 Lily of the valley and perfume: a story that brings together Gods, kings, chemists and perfumers all because of these white bells and their fascinating fragrance.
The origins of lily of the valley
A symbol of happiness and love, lily of the valley was first used in the Middle Ages in France, despite its Chinese origins. Lily of the Valley is also known as Grass-of-Parnassus after the legend of the God Apollo, who created a bed of lilies of the valley to allow his muses to walk on Mount Parnassus without hurting their delicate feet.
It was in the 16th century when offering lilies of the valley became a tradition. At this time, the festival of love was on this date. King Charles IX, having received a lily of the valley on this blessed day, decided that these white bells would be offered to women every 1 May.
Today, when these white bells appear, it is a sign that spring has sprung. Its fresh green and delicate scent fills bouquets in May, fills hearts with joy and sweetens the soul. Did you know that lily of the valley does not actually produce its well-known fragrance?
Lily of the valley and perfume: a mute flower
Similar to other floral notes such as lilac, violet or honeysuckle, it is impossible to extract the essence, or olfactory molecules as they are also called, from lily of the valley. Perfumers have neither essential oils nor absolutes of these fragrant flowers in their perfume organs.
However, certain perfumers have managed to recreate their vernal scent using accords of both natural and synthetic raw materials. These are known as reproductions or reconstructions.
Thus, Léon Givaudan gave birth to the scent Muguet 16, a reproduction that combines light and fresh, green, aquatic and slightly jasmine-like notes, typical of the olfactory body of the lily of the valley.
Used as top and initial middle notes, the scent of lily of the valley blends freshly into a floral bouquet with fruity and sensual aromas.
With woody notes such as cedarwood, patchouli, oud and sandalwood, the lily of the valley adds a lightweight and transparent facet to the fragrance, giving it floral and sweet undertones along with slightly deeper base notes.
Its top notes feature citric fruits such as grapefruit, mandarin and bergamot along with aromatic notes of lavender which pair perfectly thanks to its aquatic centre.
Its fruity floral essence is used to perfume many fragrances in perfumery and cosmetics, from colognes to more concentrated perfumes.
Lily of the valley perfumes
The first ever perfume to use lily of the valley was Muguet des Bois by Coty, which was a great success on the other side of the Atlantic. Caron followed this vernal style with Muguet du Bonheur.
Jean-Claude Ellena then recreated this delicate flower in the fragrance  Muguet Porcelaine for Hermès, a tribute to Diorissimo de Dior, created by Edmond Roudnitska. Lily of the valley has always been very popular with Christian Dior, who even made it his lucky charm.
At Guerlain, Thierry Wasser embarks on another olfactory journey with lily of the valley enveloped in a sensual and fruity jasmine. For years now, every 1 May Guerlain celebrates this delicately scented flower.
At Quintessence Paris, notes of lily of the valley are used by our perfumers to add a touch of green freshness to certain flowers, such as rose or tuberose. However, you can find the sweetness of lily of the valley in the wake of a snowdrop. This white winter flower with fresh and musky green notes is used by Quintessence!