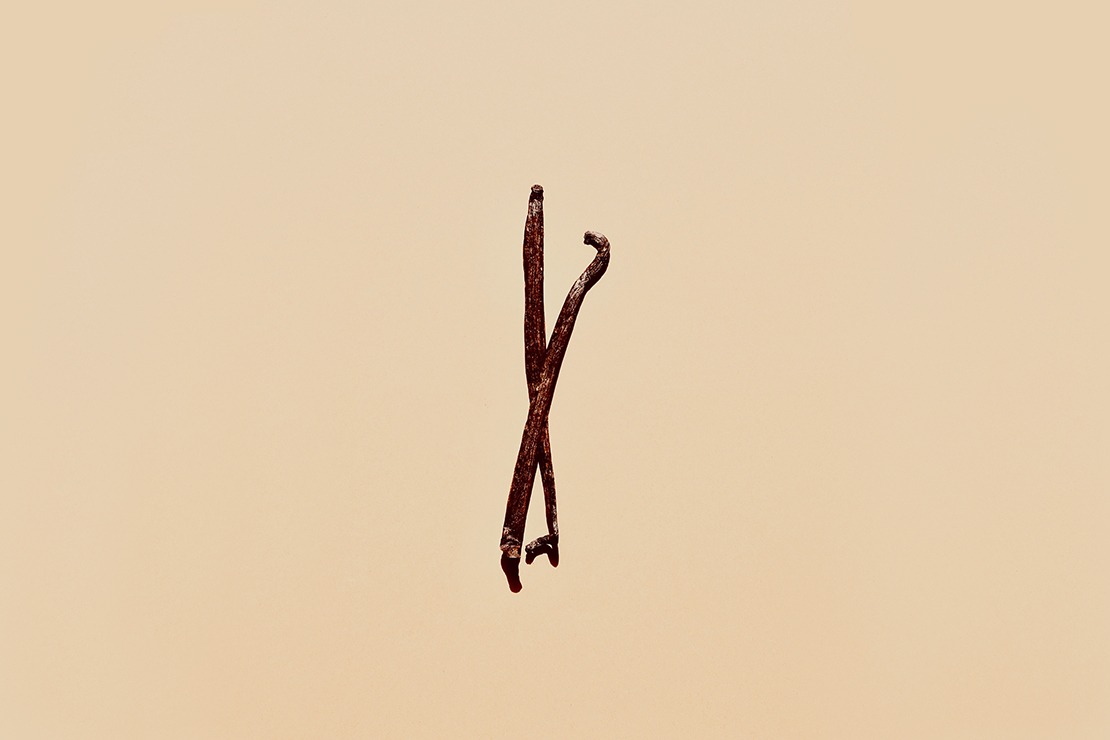 As sweet as it is intoxicating, this aromatic spice influences the world with its oxymoronic scent. Its warm, indulgent notes are combined with animalic and leathery undertones that soften, add depth and envelop the fragrant accords. Commonly used in the food industry, vanilla is also the star of perfumery thanks to its captivating and addictive scent.
The history of vanilla
A mysterious orchid that grows in the undergrowth of humid tropical regions, the vanilla tree takes the form of a liana, 
revealing edible fruits called pods. It was found in the Gulf of Mexico as early as the 16th century, cultivated by the Totonac, an Amerindian people living on the coast before the Spanish landings in 1519. Logically enough, vanilla crossed borders, seduced the  Spanish court and became extremely popular in Europe. A Royal edict even established a monopoly on sales in France in 1962.
It wasn't until the beginning of the 19th century that this fragrant orchid was taken to Bourbon, on the island of Réunion. 
Unfortunately, far from its country of origin, the plant couldn't bear any fruit... but its origins were discovered once it was returned to Mexico.
The fertilisation of the flower is in fact achieved thanks to a small bee native to Mexico: the melipona. As it buries itself in the flowers, it brings the male and female organs together to form the pod. This species is not found beyond the Indian Ocean, and it was only in 1841 on Reunion Island that the botanist slave  Edmond Albius, discovered how to fertilise the Bourbon vanilla flower by hand, using a bamboo tip.
It is often referred to as Bourdon vanilla or Tahitian vanilla, but for many years 60 to 80% of the world's production has come from Madagascar.  
That being said, nine months after this fertilisation, the harvest of the pods begins. A number of key steps follow, allowing the vanilla to develop its enticing aroma.
The extraction of vanilla in perfumery
The first phase of scalding consists of immersing the vanilla pods in water at 65°C for three minutes. This stops the ripening process immediately, allowing the development of the aromas to begin.
The vanilla is then left in a heating chamber for twelve hours, where it takes on its beautiful chocolate colour and sweet scent. Over the next two weeks, the pods dry in the sun, developing their olfactory and flavoursome qualities, as well as their many virtues.
In the perfume industry, there is a technique for extracting vanilla: volatile solvent extraction. This process dissolves the bean in a solvent, forcing it to evaporate. The pods are then immersed in a tank called an extractor, then washed with ethanol, before being boiled.
Once the solvent has completely evaporated, it leaves behind a resinoid, also known as an olfactory paste. After several washes with ethanol and multiple rounds of glazing, the purified extract is transformed into a vanilla absolute. Perfumers use this to give a beautiful and complex appearance to their scented compositions.
Vanilla: an aroma with a thousand facets
Vanilla's olfactory palette is in fact quite surprising. With hints of vanillin or vanilla bean, the aromas of vanilla never cease to amaze perfumers as well as food and dessert professionals. Cakes, vanilla ice cream, vanilla sugar, custard, blended rum... vanilla has something for everyone.
Its extremely sweet and powdery vanilla facet is revealed by its milky notes of almond, honey and aniseed. Its denser and animalic facet is expressed through its rough accord of cocoa, smoke, wood, rum, balm and leather.
With the price of vanilla reaching almost €170 per litre, natural vanilla extract with a more animalic scent is hard to come by. Therefore, substitutes are used to replace or enhance it, such as molecular accords of synthetic vanilla.
Relatively inexpensive, vanillin and the powerful ethyl-vanilline are prime examples. They are used to mimic gourmet vanillas with sweet and milky facets which are often found in more powdery scents, such as on sweets and pastries!
Slightly rarer, vanilla tincture is the result of soaking the split bean in alcohol for about a month. Its olfactory profile is closer to that of an absolute, more pod-like, intense and animalic.
Vanilla: the star of perfumery
In oriental perfumes, vanilla reigns supreme. Adopted by Guerlain and Thierry Mugler, it is an aroma that appears in two of their must-have perfumes.
In 1889, Jicky by Guerlain was the first to introduce synthetic ingredients into the world of luxury perfumes. Shalimar by Guerlain sfollowed suit, showcasing ethyl vanillin in a timeless oriental vanilla fragrance. Thierry Mugler captivates many with A*men, an animalic scent that subtly plays with the vanilla pod. Finally, Comptoir Sud Pacifique explores the different facets of vanilla in the adventurous Vanille Passion. 
Vanilla substitutes
While its aroma delights our senses, there are other raw materials that can be used as substitutes for vanilla.
The benzoin resin that trickles from the tree after the trunk has been cut offers sweet, honeyed and balmy undertones. These tears reflect vanilla's soft and round character.
We also encounter cocoa with its powdery vanilla notes, but also its more intense animalic aroma, which is similar to the scent of the Bourbon vanilla bean. The tonka bean bean also reveals a powdery vanilla in its wake, along with a touch of almond and intense caramel.
Finally, a small new arrival is back on the scene, albeit discreetly: the decalepis root. Of Indian origin, it has a powdery, almondy, vanilla-like fragrance.
Vanilla & Quintessence Paris
With its sensual facet, vanilla plays a key role in floral fragrances. It perfectly enhances fresh scents, lending a well-rounded touch to the flowers. Discover the aromas in the beautiful Victoire candle by the maison Sarah Lavoine.
When a fragrance is infused with spicy aromatic notes, vanilla adds a velvety touch to soften the aromas, giving a comforting and gentle finish to the scent.
In an oriental fragrance, vanilla is key. Its addictive and indulgent notes envelop the perfume, providing endless delight: the symbol of beautiful olfactory opulence.
Paired with woody notes, vanilla softens the fragrance and provides a round and sweet finish. At Quintessence, it's the tonka bean that takes centre stage with its rounded notes of cocoa, as seen with the additive candle by the Ritz... a true Madeleine de Proust!